In the process of the development trend of digitalization, networking, high-definition and intelligence of video surveillance system, the market demand of network video surveillance system is increasing day by day. With the large-scale involvement of the security industry, especially the full development of projects such as safe cities and intelligent transportation, monitoring scenarios tend to become more complex, monitoring points are scattered, and the application of back-end equipment NVR/XVR is gradually expanding, and its performance requirements are constantly increasing. promote.
Recently, Rockchip launched a new security back-end NVR/XVR chip solution RK3568. Its four major features enable the comprehensive hardware upgrade of NVR/XVR.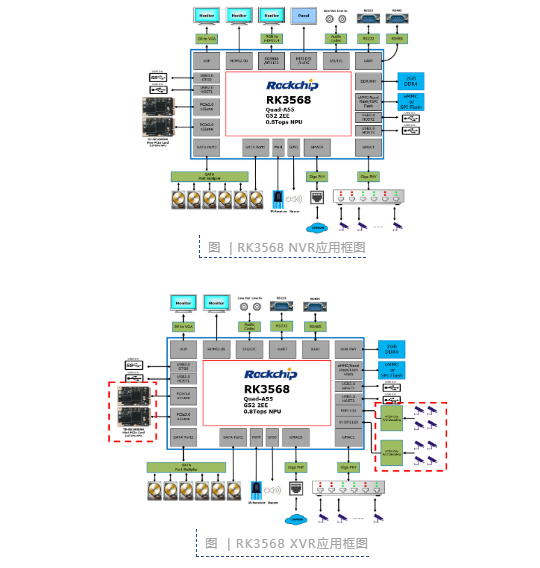 1. RK3568 has powerful core processing capabilities to ensure the stability and efficiency of data processing of back-end equipment
The RK3568 CPU is a quad-core Cortex-A55 and adopts the new Arm v8.2-A architecture, which effectively improves the performance. Adopt 22nm advanced technology, low power consumption and high performance
GPU is Mali-G522EE, dual-core architecture, graphics API supports OpenGL ES 3.2, 2.0, 1.1, Vulkan1.1
Built-in Rockchip's self-developed third-generation NPU RKNN, with a computing power of 0.8Tops, and supports Caffe/TensorFlow/TFLite/
One-click conversion of mainstream architecture models of ONNX/PyTorch/Keras/Darknet
Powerful encoding and decoding capabilities: support 4K H.264/H.265 and other formats high-definition decoding, support simultaneous decoding of multiple video sources, maximum support 10*1080P30 H264/H265, support the same encoding and decoding; support
[email protected]
264 and H.265 format encoding, support CBR, VBR, FixQp, AVBR, and QpMap, support ROI encoding
2. RK3568 supports a variety of RAM/ROM types, safe and reliable, and data storage is worry-free
Support rich DDR particle types, support DDR3/DDR3L/DDR4/LP3/LP4/LP4x, support DDR3 and DDR4 full-link ECC, meet the requirements of high reliability products such as industrial control, 32bit bit width, maximum data rate 3200Mbps, ample The best bandwidth design can better meet the needs of security intelligent NVR/XVR scenarios
Supports rich flash types, supports SPI NOR / SPI Nand Flash / Nand Flash / eMMC, supports SPI Flash+eMMC dual ROM coexistence design, and meets differentiated dual system design requirements
Test-proven DDR core templates and core device selection tables can be provided to facilitate rapid productization for customers
3. RK3568 has excellent energy consumption control technology, less heat generation, and environmental adaptability
Rockchip self-developed S-Boost power control technology, compared with traditional technology, the performance is improved by 10% under the same voltage, and the power consumption is reduced by 20% under the same frequency. Combined with the energy consumption advantages of 22nm advanced technology, the heat generation of security back-end products is more balanced, and the work is more reliable in high temperature environment
Rockchip self-developed super standby mode, under the LPDDR4X application scheme, through the cooperation of software and hardware, the power consumption of the whole machine can be reduced to 1.6mA (3.8V power supply), which can be suitable for products with special requirements for ultra-low power consumption
4. RK3568 supports rich interface expansion, supports three-screen different display, and meets the needs of diversified security scenarios
Has a more flexible IOMUX, pin multi-function combination application, can be selected according to product requirements, to meet more diverse functional combination requirements
It supports a variety of video input and output interfaces, the output interface supports its own point screen, and can support up to three different displays; the input interface can be used to connect an external camera or to expand the input capability of multiple cameras. Compared with the traditional NVR/XVR solution, RK3568 adds a local display output interface and a camera input interface to realize the integration of display, which is conducive to the application of different types of security back-end products.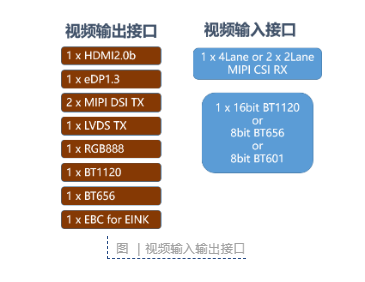 The high-speed interface is rich in optional types, supports 2 RGMII interfaces, supports PCIE2.1, PCIE3.0, supports up to 3 SATA3.0, 2 USB2.0, 2 USB3.0; PCIE interface makes 5G and WiFi6 high Speed throughput application becomes possible, realizing support for operators and cloud services and other services
RK3568 security back-end NVR/XVR solution, in addition to traditional access, storage, forwarding, decoding applications, based on its high-performance AI computing power, can also be used in face comparison alarm, intelligent human and vehicle retrieval, cross-border warning, Intelligent application of fire alarm visualization and early warning to reconstruct edge value.
Face comparison alarm
The RK3568 solution can support video stream or image stream detection and recognition, and output face real-time comparison by identifying features such as gender, age, and expression.
Intelligent human vehicle retrieval
Supports functions such as image search by image, face search by face, comparison linkage, second-level retrieval, and alarm control.
Out-of-bounds alarm
The RK3568 solution is based on the self-developed high-efficiency RKNN AI processing unit, which realizes applications such as regional intrusion and cross-border detection. It can identify human/motor vehicles and filter various environmental disturbances, such as plants, light and shadow, small animals and other non-human bodies or vehicles. false positives.
fire alarm visualization
Based on the powerful core processing capability of RK3568, it supports the security NVR system with temperature rise detection and smoke detection as the core. It can mark the orientation of smoke, fire point, etc., and quickly check the video linkage to meet the needs of early fire detection.
At present, the security back-end solution RK3568 has entered the mass production stage. At the same time, Rockchip launched two evaluation development boards based on RK3568, one for NVR/XVR scenarios and one for DDR4 for industrial control security scenarios, aiming to allow downstream partners to adapt and verify related product functions more quickly , to help the comprehensive hardware upgrade and product implementation of the new generation of intelligent security back-end equipment.